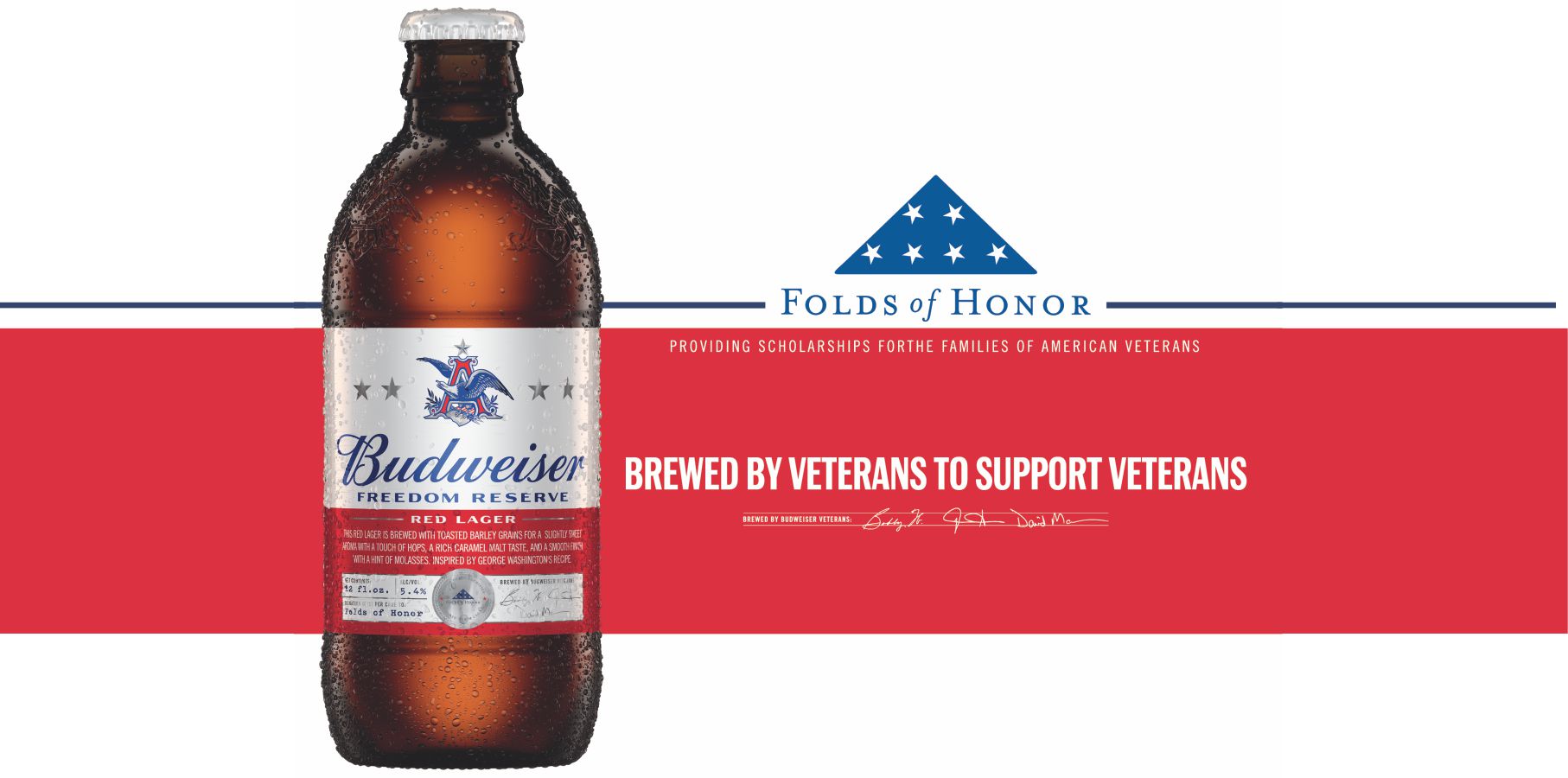 Honor Their Sacrifice, Educate Their Legacy With Budweiser Freedom Reserve Red Lager
For over 100 years, Budweiser has proven themselves a champion for supporting U.S. troops by employing veterans in their facilities and supporting them through various efforts. This summer, that tradition continues with Bud's partnership with Folds of Honor.
Major Dan Rooney founded Folds of Honor after witnessing the heartbreaking scene of a young boy waiting at an airport to bring back his father's remains from overseas. After that moment, Major Rooney decided to dedicate his life to honor fallen or disabled service members and their families, which led to the founding of Folds of Honor. Their mission statement is simple: To provide educational scholarships to spouses and children of America's fallen and disabled service members.
There are more than 1,000,000 disable and fallen service members in the U.S., leaving more than 2,000,000 dependents and spouses of military heroes adversely affected by war, 9/10s of which do not quality for federal assistance. Folds of Honor strives to provide scholarships to dependents and spouses of fallen or disabled service members. Since its founding in 2007, FoH has awarded nearly 16,000 educational scholarships ranging from Kindergarten to undergraduate levels. This scholarship can be used by its recipients for private schooling, tutoring, tuition, or other unmet needs required for education.
Honor their sacrifice. Educate their legacy.

Through their partnership with Folds of Honor, Budweiser has developed a special lager coming April 2018. The recipe for this specialty Red Lager is inspired by one hand-penned by George Washington in 1757. It is brewed with toasted barely grains to produce a lightly hoppy aroma and a slightly sweet taste with a hint of molasses. For every case of this lager sold this summer, Budweiser will donate $1. But that's not all. Along with Budweiser's donation, Donnewald Distributing will also be donations $1 per case sold to show our support and gratitude for those who paid a steep price for their dedicated service.
If you would like to be a part of this cause, keep an eye out for Budweiser Freedom Reserve Red Lager on the shelves. The more you buy, the more we get to donate.
Our deepest gratitude is given to those service members who have sacrificed much in order to guard our nation's legacy of freedom.